Solar Pool Ionizer Purifier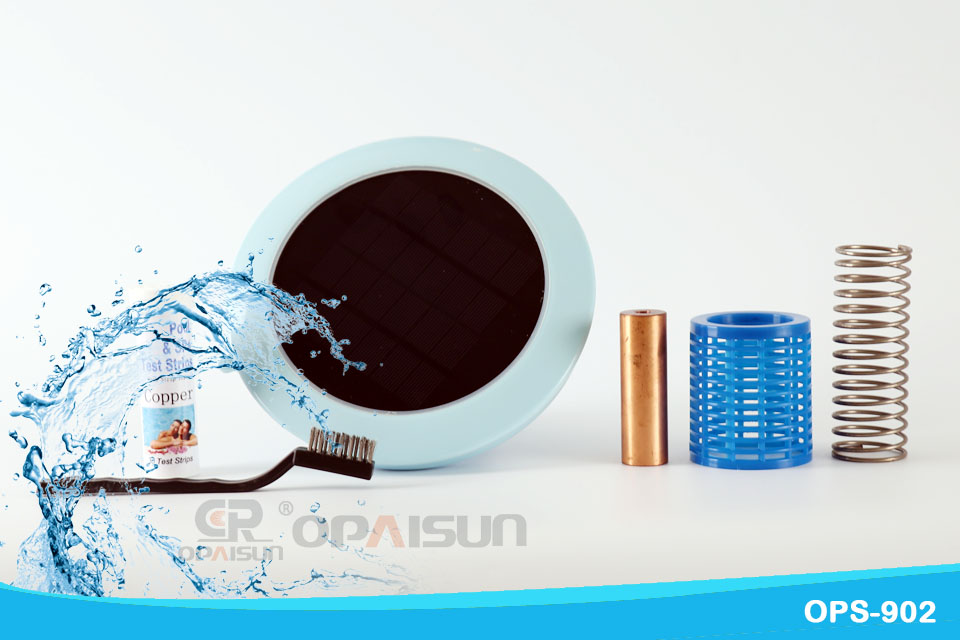 | | |
| --- | --- |
| Model | OPS-902/OPS-903 |
| Diameter | 205mm |
| Height | 155mm |
| Weight | 1.1kgs/pc |
| Solar PV Panel Type | Single crystal |
| Solar Panel Power | 2~3 Watt |
| Solar Panel Volt | 6 V |
| Panel diameter | 150mm |
| Copper Anode Length | 80mm |
| Coil Material  | 304-BA Stainless steel |
| Mesh Basket | PE material |
Features
Solar ionizer, Solar pool ionizer, Solar swimming pool ionizer, Sun shock chlorine-free pool ionizer and purifier suitable for both residential and commercial applications.
It's a highly efficient water disinfection and purification device that provides many benefits in comparison to other systems.
Kill Algae and Reduce the need of Chlorine.
Save your time for Algae-scrubbing.
Reduces Chlorine consumption by up to 80% and saves $300-$800 per year in chemicals alone.
Say goodbye to Algaecides and toxic Chemicals.
Recommended for pools up to 150 M3..
Works with all Pools & SPAs, In-ground, above-ground, saltwater, and chlorine pools..
Reduce eye and skin irritation caused by chlorine and other chemicals.


Healthy & Clean
Clean your pool witn sunlight, Say no to chlorine!
Bright sunshine, excellent air, beautiful environment, healthy and clean water!
How it works
While the solar pool ionizer purifier is floating on the water, the solar panel converts sunlight into electricity. This completely harmless low-voltage electrical current powers a Silver-Copper mineral alloy electrode below the waterline. This causes the release of mineral ions into the surrounding water that easily spread throughout the pool. Once the water has reached an optimal level of ionization, it will efficiently prevent the growth of microorganisms without the need to use chemical agents.
Some contaminants in your pool, such as dust, suntan lotion, body fluids, etc., are not affected by minerals. A build-up of these substances tends to cloud the water and therefore requires a minimal amount of chlorine to dissolve them and keep the water crystal clear. You can reduce the chlorine level by up to 85% with respect to the usual amount used, also providing you with significant financial savings in maintenance costs.
Get a quote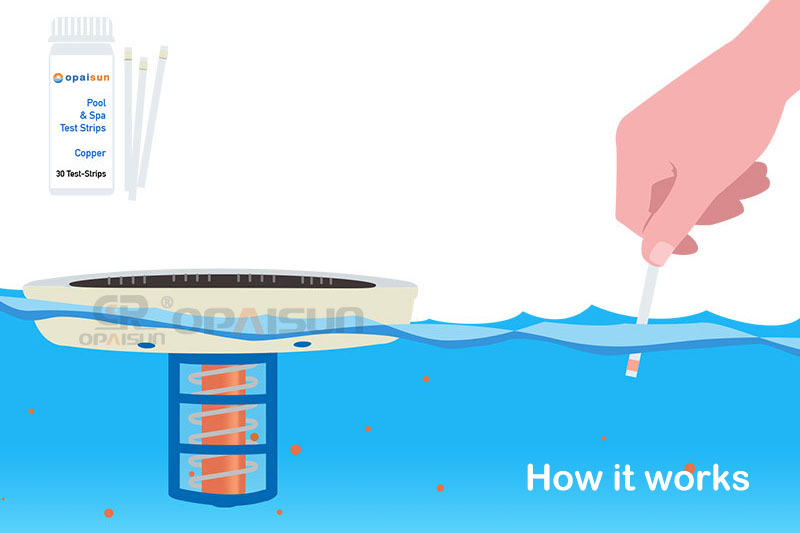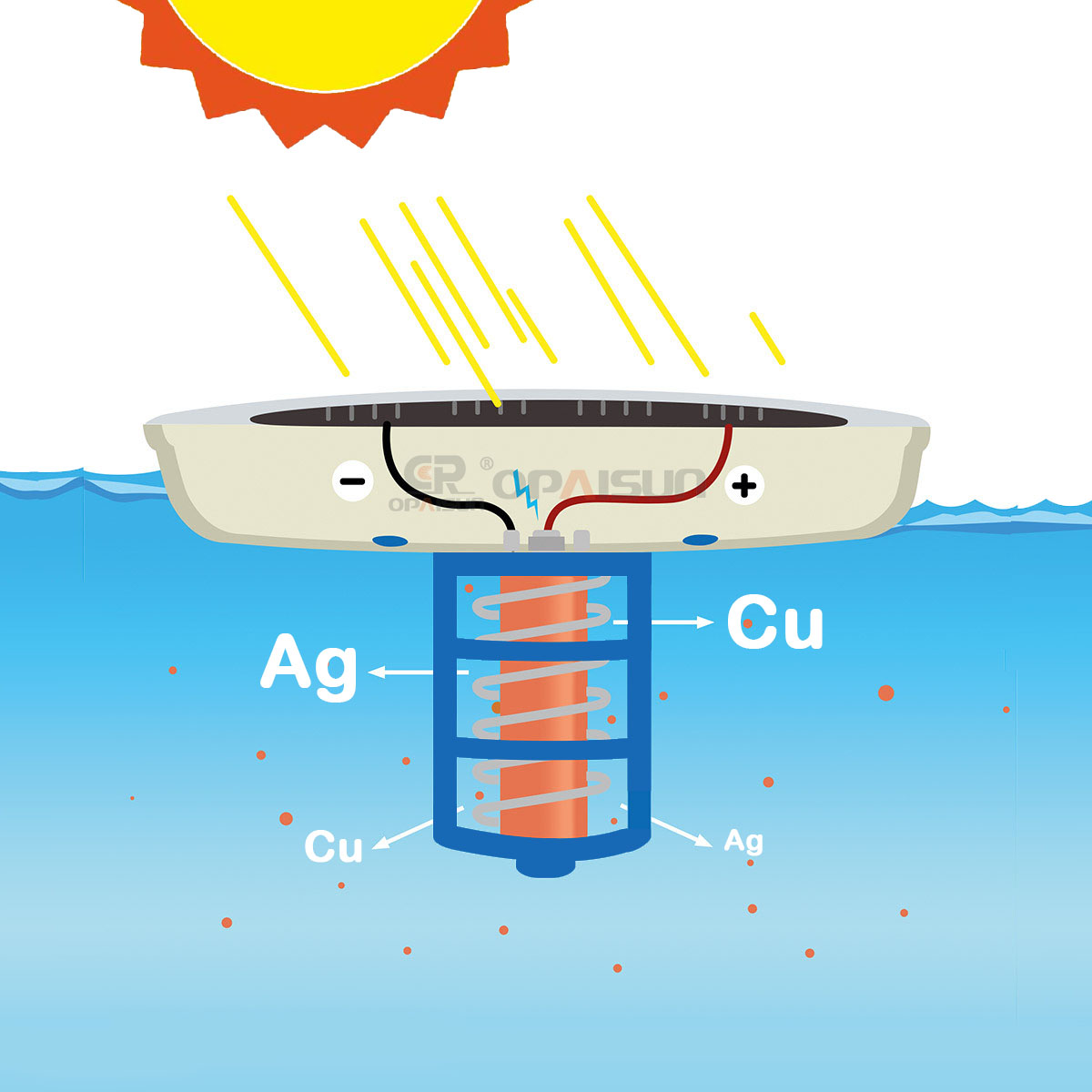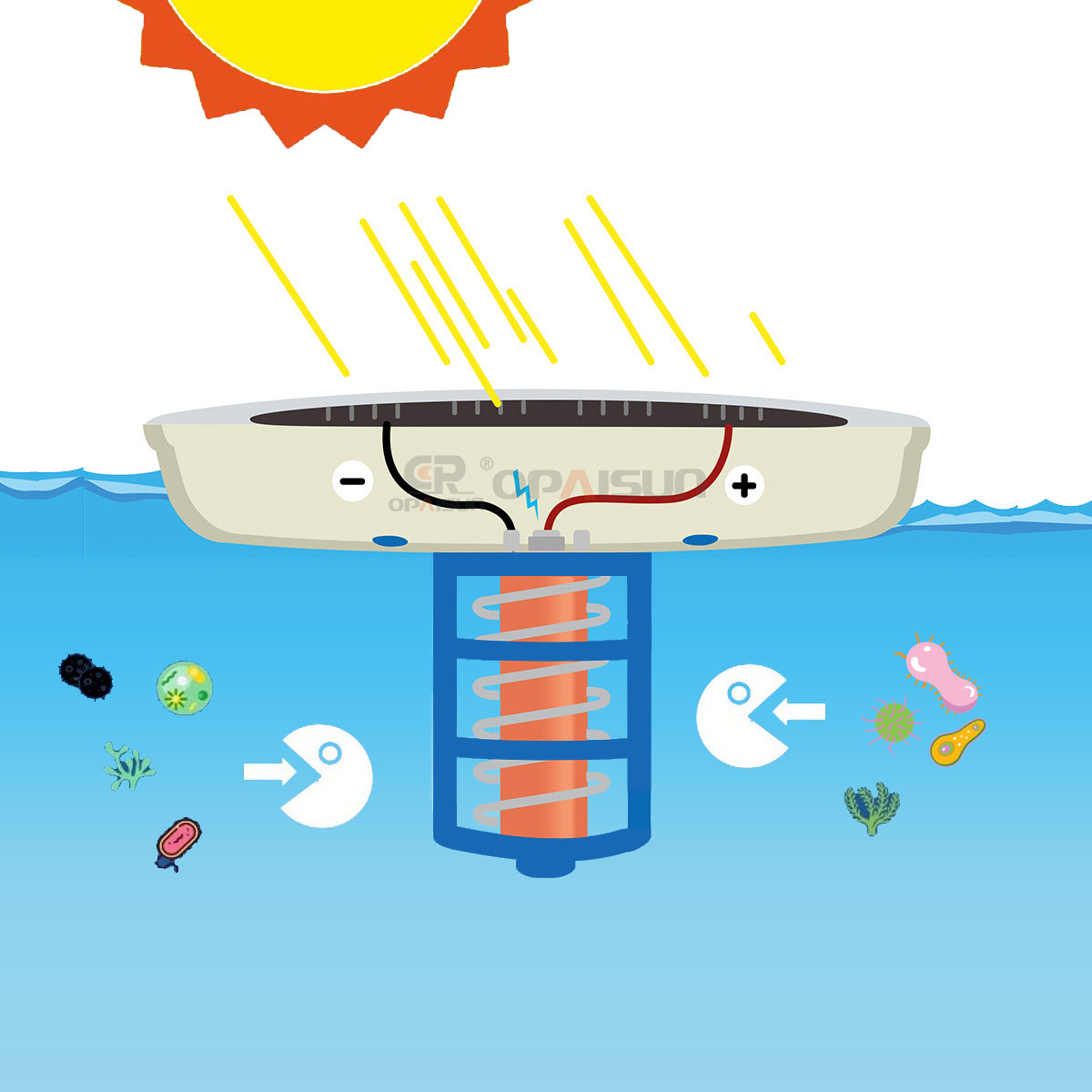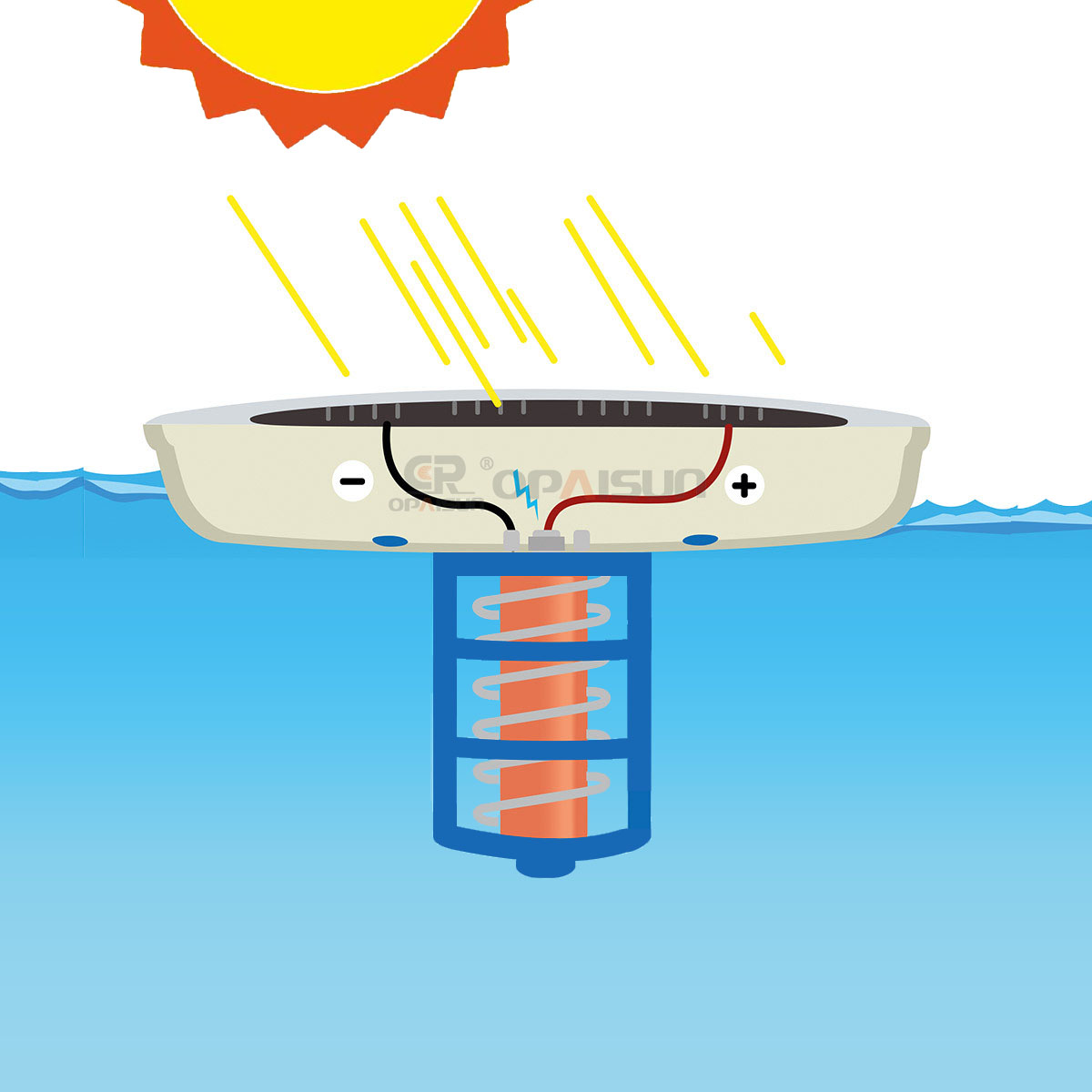 | | | |
| --- | --- | --- |
| Test Item | Pool before Treatment | Pool after Treatment |
| Total Coli from Group, MPN/100ml | 9.2 *106 | <2  |
| Total Number of Bacterial Colony, CFU/ml  |  1.3 * 106 | 120  |
| Copper, mg/L | 0.008  | 0.921  |
| PH |  7.82 | 7.12  |
| Temperature (Centigrade) |  21 | 21  |
| Total Alkalinity as (Calcium Carbonate), mg/L  | 105  |  83 |
|  Free Residual Chlorine, mg/L | < 0.53  |  < 0.05 |
| Cah (Calcium Carbonate), mg/L | 135 | 123 |
How to use
Solar pool ionizer purifier up to 80m3 of water, it is perfect to eliminate viruses, bacteria and algae. Solar ionizer also helps to reduce the use of chlorine in your pool by 70%.
Step 1: Let the ONOSI Solar pool ionizer simply floats in the pool, make sure it under the sunlight.
Step 2: The solar panel converts sunlight into low voltage harmless electricity. The electrical current energies the anode releases mineral Cu ions into the water. Also the LED lights up.
Step 3: The Ionized water could inhibit the growth of microorganism and algae in pool. The solar pool ionizer also collects undesirable minerals such as calcium and iron. It has the effect of softening your water.
Get a quote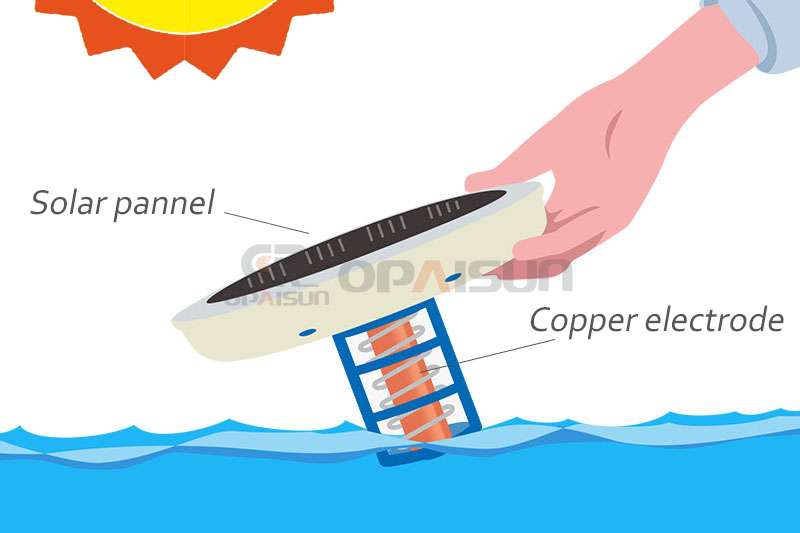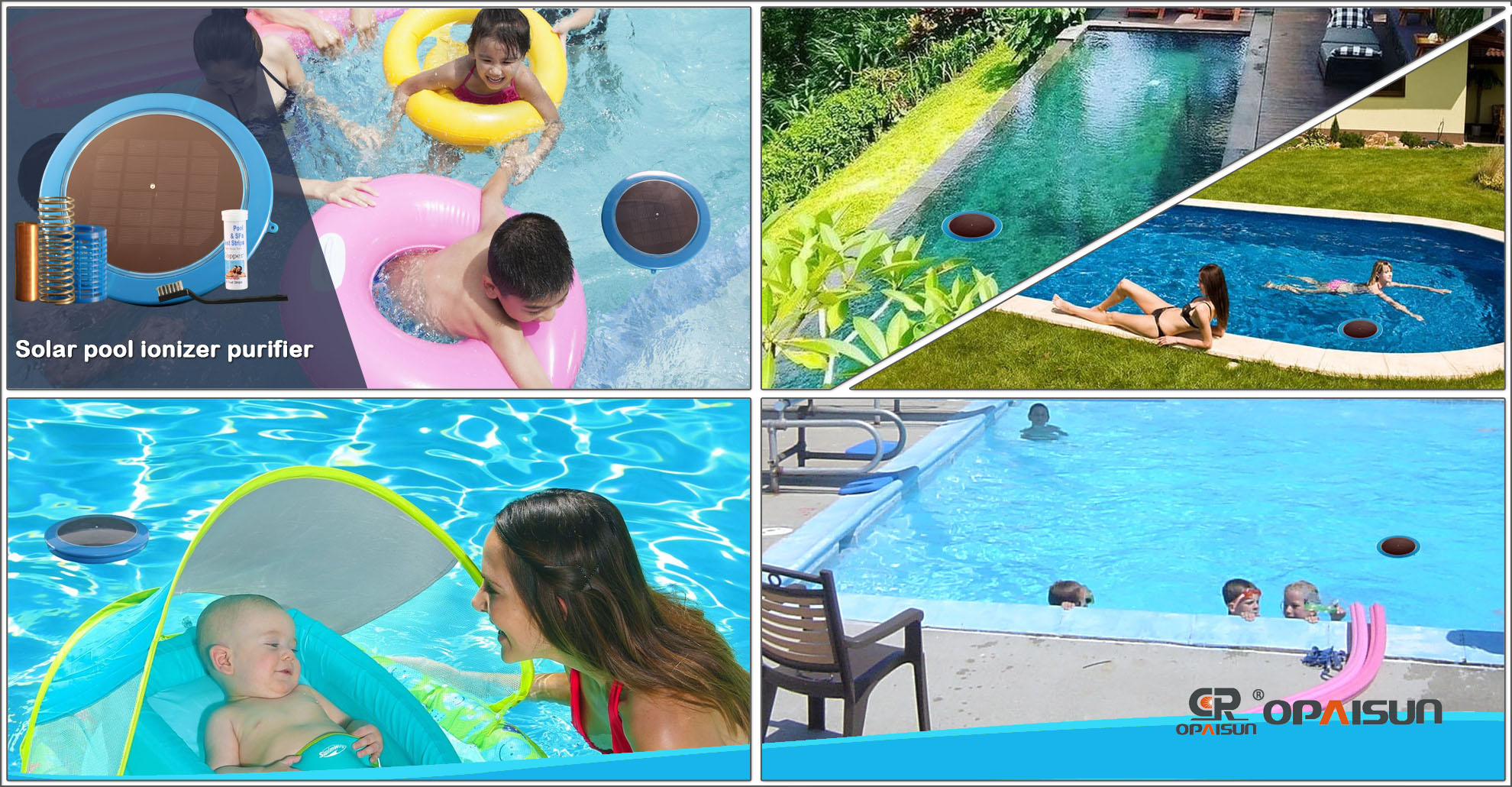 Frequently asked questions
What is ionization?
This is a process in which an element acquires or loses electrons. The ionization of copper is the result of the discharge of copper ions.
How does the electrode work?
When the atoms of the copper electrode are ionized, the copper ions will diffuse in the water, and the effects of these ions on the microorganisms are fatal.
How does copper ionization purify water?
Copper ions penetrate the protective outer membrane of algae and bacterial cells, destroying the balance of enzymes, inhibiting the growth and reproduction of bacteria, and cleaning and disinfecting water.
How long does it take to reach the effect?
It depends on many factors and usually takes 2 weeks.
How often should perform a maintenance?
It is recommended to clean the electrode once every one week using the brush supplied with the kit.
How to install?
No need to install, just take it out of the box and put it in water.
Should you continue to use chlorine?
Yes, because some contaminants (such as sunscreen) still make the water turbid, so a small amount of chlorine is needed to keep the water clean and clear.
Need always put in the pool?
Yes, unless the water quality status shows 'too much copper', but this possibility is almost non-existent.
Will it leak water?
Solar pool ionizer purifier is very tightly sealed and generally does not cause water to leak into the interior and cause the water droplets to condense (unless there is a break).
Get a quote
TUV, CE Certification Products, ISO 9001:2015 Factory

China Direct Factory, Wholesale Price.
TUV, CE Certification Solar Pool Ionizer Purifier;
ISO 9001:2015 International Quality System Authentication Manufacturer;
address

Puqiao Industry Zone, Yuanhua, Haining, Zhejiang, China, 314416
phone
email